BBC 1 SERIES - Shakespeare & Hathaway
November 10, 2017
Had the pleasure of directing Mark Benton & Jo Joyner along with a cast of amazing actorrs in a brand new BBC 1 series SHAKESPEARE & HATHAWAY - Private Investigators.
Based in Stratford Upon Avon, I had a fab few months shooting around some very pretty places. Wonderful team lead by lovely Producer Ella Kelly!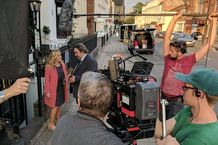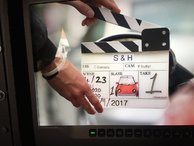 MUM V'S THE WORLD
October 11, 2017
Had such a brilliant time working with Katy Poulter & Francesca Marie Claire www.maskedponyproductions.com on a fab new comedy sketch short I directed MUM V'S THE WORLD. The short was part of their ' We Don't Hate Men' online series based on the wonderful blogs on http://thismumslife.com/.
It was shot in a day, on a tiny budget with DOP Alfie Biddle behind the lens again and was selected for Underwire Film Festival 2017 and nominated for the XX AWARD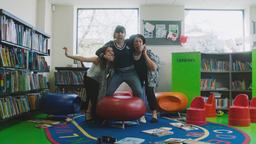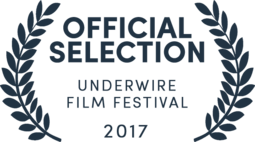 BBC 1 Casualty
October 6, 2017
Was so pleased to land a block of BBC Casualty - Ep 7&8 - Prime time Saturday night television! It was great to be working for BBC Cardiff, the team in the bay were absolutely brilliant, fantastic DOP Simon Walton and rather brilliant producer Dafydd Llewelyn! Had a ball. Thank you to everyone and all the regulars for making me so welcome and allowing me to play! TX October 2017.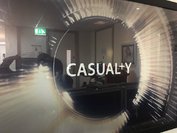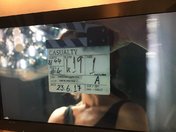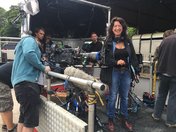 Confetti Commercial
August 14, 2017
Reunited with Spool Films and DOP Alfie Biddle to shoot a Commercial for Confetti Media. Starring a Ferrari formerly owned by Eric Clapton! Great to be shooting in Notts again!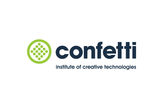 SHORTFLIX
November 11, 2016
We got the funding! After my work with NYT Playing Up I was passionate about setting up a film programme and spent time this year creating and setting up SHORTFLIX with CREATIVE ENGLAND, SKY ARTS, NYT & BFI Creative Skillset. It's a brand new initiative that seeks, trains and nurtures raw, new filmmaking talent from across the UK for socially diverse and underrepresented backgrounds, to make 5x short films to be showcased on SKY ARTS, bringing new voices to the screen ( Our Ambassadors include: RIZ AHMED, NOEL CLARKE, ZAWE ASHTON, ELLIE KENDRICK, JOE COLE)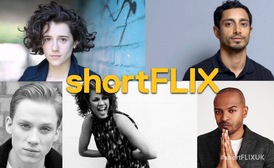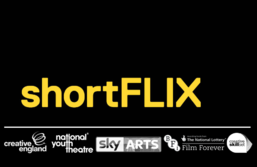 BBC Drama - Doctors 2nd Block
October 9, 2016
2nd & 3rd blocks of Doctors were a totally joy to work on. The great thing about working on these stories is each one is tonally completely different.  Was chuffed to be offered a stand alone episode.  Watch Calling George, The Prize, The Days of my Life http://www.carolinagiammetta.com/television/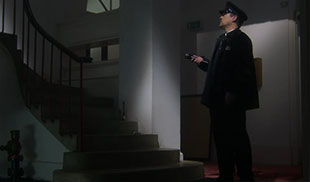 SMILE
June 30, 2016
Lovely to be asked again by writer Carol Young Husband and Producer Georgina French to direct their short SMILE.
SMILE - a dark film thriller directed by the acclaimed Carolina Giammetta and starring Deborah Cornelius and Joe Tucker. It made official selection at 15 global film festivals including two BAFTA qualifiers and was also nominated for Best Director and Best Score.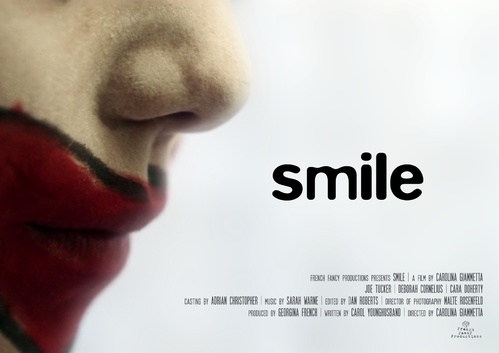 RIPPLE - The Arcola Theatre
June 15, 2016
I had the pleasure of devising and directing a show with the amazing NYT Playing Up Company. This year we have spent 6 months on and off in R&D with wonderful writer Monsay Whitney to create the play RIPPLE.
RIPPLE
Ronnie wants to die. Or maybe he's just sick of living. Whatever the case, he's intent on jumping from the roof of Merlin House. If he could only have some privacy to get on with the job…
A dark comedy exploring the rippling effects of one man's suicide bid on the world around him. Under the renowned direction of Carolina Giammetta, the NYT Playing Up Company present this touching and wildly witty new play about a man on the edge.
https://www.arcolatheatre.com/event/nyt-playing-up-ripple-besieged/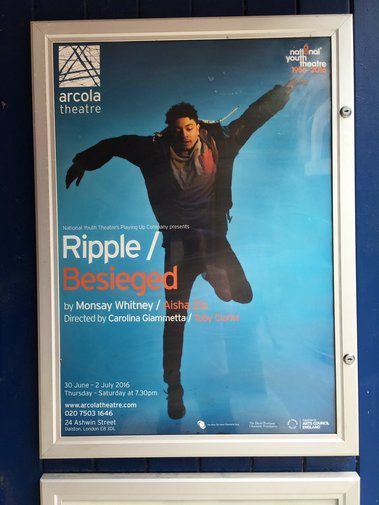 Selected for iFeatures - BFI/CREATIVE ENGLAND/BBC FILMS
May 25, 2016
AWESOME NEWS! Selected for this year's iFeatures (Creative England/BFI/BBC Films) with BLOW UP DOLLS a comedy sci-fi set in Burnley with writer Joy Wilkinson and producer Jude Goldrei (BFI's producers Vision Award). Loving working with these ladies! http://www.ifeatures.co.uk/blow-up-dolls.html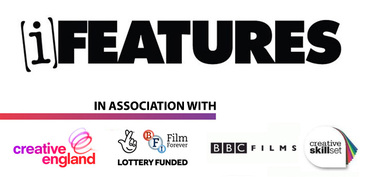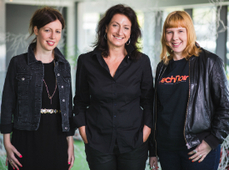 BBC Drama - Doctors
May 20, 2016
Direct my first block of DOCTORS for BBC Drama! The Cast & Crew were amazing! 17-25 pages a day is a challange but when you get it in the can and looks quite good, it's a real buzz! The regulars are great and  I bought in some people I know too! You can watch NOT EDUCATING RITA, MRS BUTTERWORTH, WHAT YOU DON'T KNOW on my TV page http://www.carolinagiammetta.com/television/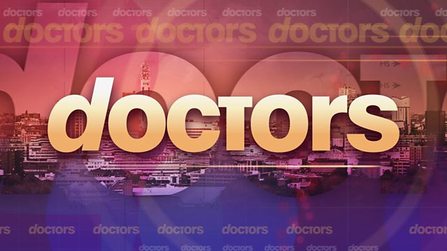 Save
ELECTRICITY
October 5, 2015
Was delighted to work with writer Miriam Battye (Bruntwood Shortlister) on a thrilling new commssioned play 'Electricity'. The play was developed over the last year with the raw talent & fearless voices of NYT Playing Up company, performed at The Arcola Theatre Main House.
Electricity
directed by Carolina Giammetta
Four young people on the cusp of adulthood are hurtling towards self-destruction. When tragedy strikes one morning outside Pimlico station, it sets off a chain reaction forcing them to reassess their lives. Miriam Battye's breakneck drama explores the contradictions and chemical reactions within us all, and asks whether we really have control over what we feel.
Directed by Carolina Giammetta
Designer Kate Lane
Lighting & Sound Designer John Castle
Composer Rupert Cross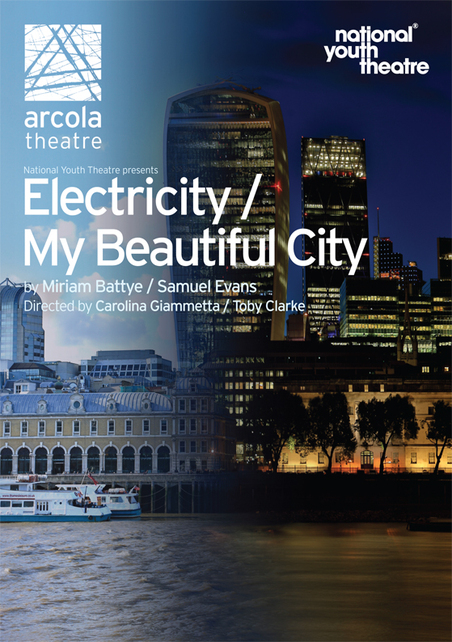 CIVIL WAR TRAILER 2015
July 31, 2015
I was asked to come up with an idea for a teaser/advert for the Civil War Trail films. I thought there was no other way to try and give the viewer a taste of the experience of what it might be like to experience doing the trail, than actually seeing it.
Inspired by Danny Boyle's journey down the Thames at the beginning of the 2012 Olympic opening, I decided to use an air-wheel and a drone to zoom around the town looking at our the Argumented Reality App will bring the films to life!
Great thanks to the work of Chris at UpperCut!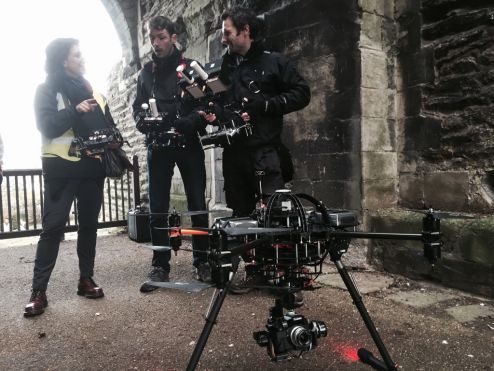 CIVIL WAR FILMS 2014/2015
July 30, 2015
I was commissioned by Spool Films to direct a series of 28 short period films about the British Civil War involving CGI, SFX and VFX.
We shot over 4 weeks in August with a cast of 100 plus and upteen locations! It was an incredible experience and gave me the opportunity to play around with ideas and story telling techniques that I'd never had the opportunity to do before.
Alfie Biddle did an amazing job as DOP, joined by his great team. An incredible job by Sally Cleary who I worked with to cast 100+ actors in 3 days! Lisa Duncan & Alexie Kharibian for an amazing job with the use of the minimal period costumes they had, Leona Seymour working solo on makeup and hair/wigs and the very talented and hard working art department team Charlotte Ball and Emma Smith.
Our incredible Spool producers Mary Kearns and Russ Noon bought the whole thing together with the smallest budget ever!
Described by press " Anyone would think you were on the set of a Hollywood feature film!'
Six of the films will be screened in a purpose built cinema in the new Civil War Centre and 22 will be downloadable on the CIVIL WAR TRAIL app.
The films are a collection of wonderful stories about real people during that time.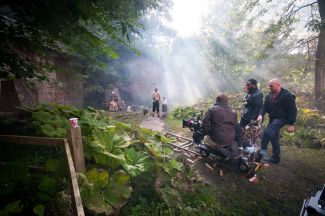 HAAGAN DAZ
July 29, 2015
Had SUCH a great time in Shanghai with Christine Cheung shooting a viral for Haagan Daz NOTES ( See my commercials page) . Totally different world/way of working and experience but loved every minute. Loved the food…. Loved it more than icecream.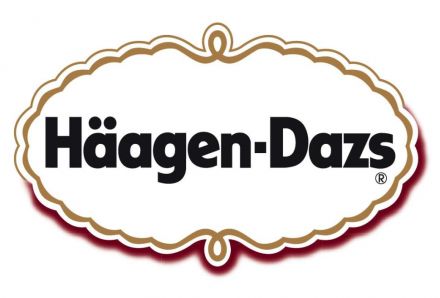 MICROMARKET 2014
July 28, 2015
Great News!  Our Screen Yorkshire Triangle Feature film The Cleaners ( Written By Corrigan Foley) has been selected by Film London for Micro Market part of the BFI PFM. I attended with our lovely producer James Levinson to pitch in front of twenty financiers, distribution companies and sales agents.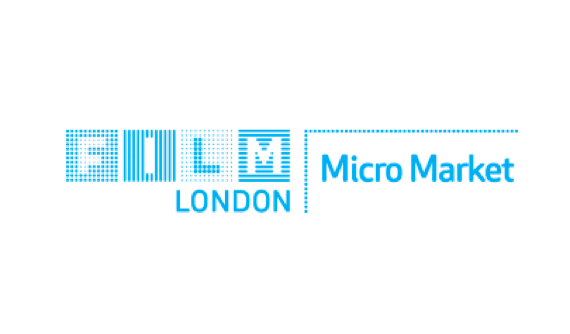 BUMP 2014
July 27, 2015
Working with the lovely producer Christine Cheung (who I've shared many Talent Lab times with) to direct a MoFilm Viral for BP.  Delighted to be working with Alfie Biddle (DOP of I Don't Care) I'm using the MoVi for the first time, very excited.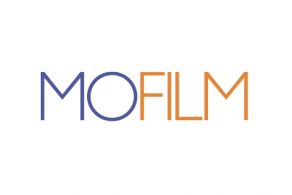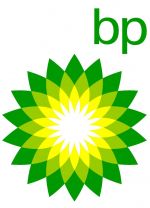 SWIPE 2014
July 26, 2015
After months of research and development with awesome writer Simon Vinnicombe and the dynamic and hugely talented Playing Up actors at NYT, we created a trilling new play 'SWIPE'. The Play explores modern dating, technology and ' Tinder' and will play for a week in June at The Arcola Theatre in a double bill with Liminal By Rebecca Manley. Both plays had a fantastic response and it was great to direct theatre again!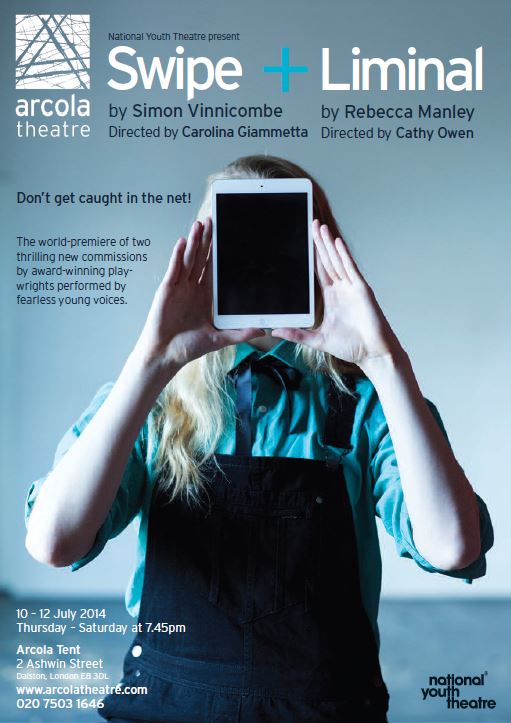 LOCO 2014
July 24, 2015
Delighted to be asked back by the lovely people to LOCO (London Comedy film Festival) to run a few panels this year Including with MJ Delaney, Destiny Ekaragha.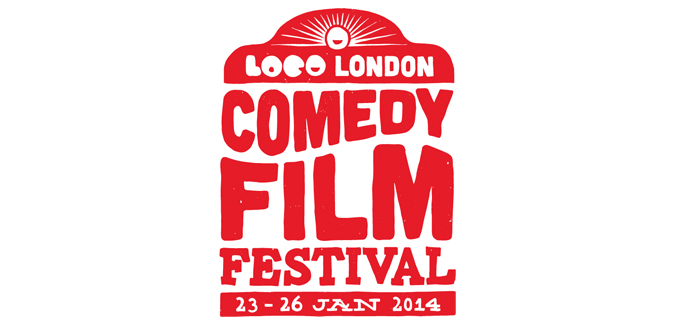 FILM LONDON Commissions short film ' I Don't Care' 2013
July 23, 2015
At the beginning of this year my short film script 'I Don't Care'  was commissioned by Film London as part of the London Best of Boroughs Film fund scheme. I was equally delighted to have Penny Linfield & Mary Kearns from Spool Films on board again as Producers.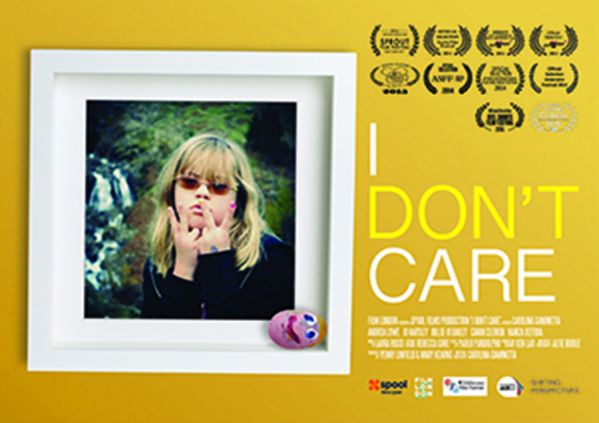 I can honestly say it was one of the most heartfelt and wonderful shoots I've ever done.  I loved every minute of it and I am so proud of everyone that was part of the making of this lovely film!
The film was inspired by the incredible work of 'Shifting Perspectives' www. shiftingperspectives.org  In particularly the work of Richard and Fiona Bailey.
A mother to be, faces the high possibility of having a child with Down's Syndrome and befriends a family who share their experiences and guide her towards a different perspective.
Written and Directed By Carolina Giammetta
Produced By Penny Linfield and Mary Kearns
Composer Laura Rossi
DOP Alfie Biddle
Editor Paulo Pandolpho
Starring Andrea Lowe, Jo Hartley, Billy Jo Bailey, Cavan Clerkin, Hamza Jeetooa
Shot May 2013 in London
THE BUREAU SOS DEVELOPMENT SCHEME 2013
July 23, 2015
Delighted that my feature script Pizza Face was selected for this years SOS script development scheme with The Bureau.
I had the pleasure of spending 4 days amoungst some wonderful writers working on some cracking film projects.
The feedback we all got was really valuable both from the wonderful team at The Bureau who run the scheme: Tristan Goligher, Matthieu de Braconier & Valentina Brazzini  and from all the other writers.
SCREEN YORKSHIRE TRIANGLE SCHEME 2013
July 23, 2015
This summer I was selected to take part in the Screen Yorkshires Triangle programme. It selects 12 feature film projects, then teams the Writers with Directors and Producers.
After 4 days of what I can only describe as 'filmmaking speed dating' I found  a great project and 'Triangulated with the very awesome  Corrigan Foley (Writer) and top Producer James Levison of Wingbeats Pictures on a comedy crime feature film 'THE CLEANERS'.
IMDB SCRIPT TO SCREEN AWARD 2013
July 23, 2015
My short film script 'Holy Cannelloni' was nominated for an IMDB Script to Screen award earlier this year. It was great to see the script read out loud on stage by actors. I didn't cast them or rehearse them so it was fantastic to see what they had delivered just from the script alone!
Holy Cannelloni is teaser short film for my feature film Pizza Face.
Thanks you Bath Film Festival  for the nomination and a great night!
BFI THINK- SHOOT- DISTRIBUTE 2012
July 23, 2015
I've been selected for the 56th BFI London Film Festival's 'Think-Shoot-Distribute', a feature film talent and project development scheme!
'The 56th BFI London Film Festival, supported by Creative Skillset, Adobe, Creative England, Film London and The Hospital Club has selected 25 talented and experienced people seeking to develop their feature film career, to take part in Think-Shoot-Distribute 2012 to develop their career, their skills, their industry knowledge, their contacts and their project.'
And I'm one of the lucky 25!
Really looking forward to it. There are some fantastic Writers, Directors, and Producers attending who I can't wait to meet. The week long programme looks brilliant with some excellent speakers, great workshops all of which I'm sure will leave us buzzing to get on with our next project!
EIFF TALENT LAB 2012
July 23, 2015
I was selected to attend the 66th Edinburgh International Film Festival Talent Lab 2012.
It was such an amazing opportunity. We spent 4 days watching films: Kasia Klimkiewicz's Flying Blind (IF2), Penny Woodcocks One Mile Away, Brent Mc Corkle's Unconditional) and listening to some brilliant speakers that work across the film Industry from Script Editors to Producers and Financiers.
I really enjoyed my 1-2-1's with Lila Rawlings (Film4) Tracey Brimm (Producer Grabbers) Piers Nightingale (Highpoint) Ian Benson (The Agency)
The networking and parties were all part of the package (as was the Ceilidh!) where I got to spend time with the other great filmmakers: Michael Berliner, Barrington Robinson, Christine Cheung, Rachel Tunnard, Nicola Bowen, Eva Railey and many others.
Highly recommended for all filmmakers! Thank you Neil and Holly at EIFF- it was a real treat!
MAN UP SHORTLISTED FOR VIRGIN MEDIA SHORTS
July 23, 2015
MAN UP has been shortlisted for the Virgin Media Shorts Competition 2012! I was so delighted when I was longlisted that to get on the shortlist over 1000 films this year was amazing. The 2.20min version of the film will now play at 200 cinemas UK wide, the Virgin Movie Channel and mobile networks! The award ceremony will be at the BFI on 8th November !
Judges will include Julie Walters, Mat Whitecross, Phyllida Lloyd, Luke Snellin, Sam Branson, James King, Ben Roberts, Cindy Rose http://www.virginmediashorts.co.uk/page/judges
SCREEN DAILY ON VIRGIN MEDIA SHORTS